Kedarnath Temple: A Complete Travel Guide for Kedarnath Yatra
Kedarnath temple is one of the twelve jyotirlingas of Lord Shiva located in the Rudraprayag district (Uttrakhand), at an altitude of 3583 meters and situated at the bank of river Mandakini. Kedarnath temple is one of four pilgrimage spots that are part of a Chota Char Dham Spiritual Circuit. The whole temple is constructed by massive greystones with the large statue of the Nandi bull situated outside of the temple.
The road is not motorable though people continue till Gaurikund beyond its 16 Kms trek has to be done to reach Kedarnath. The faith of devotees overlooks any obstacles, people take a long trek to Kedarnath from Gaurikund to offer prayer in the temple. Due to heavy snowfall, Kedarnath temple remains to close in the winter season for almost six months.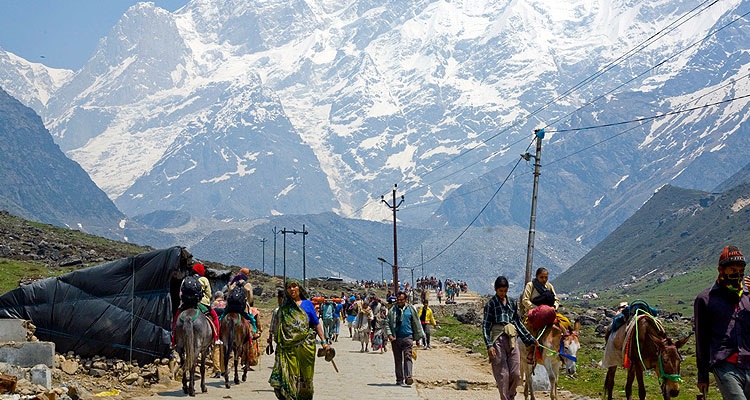 So, are you planning to reach Kedarnath temple? Then make sure that you have proper knowledge about your place which will take you through the most spiritual and holy pilgrimage of 16km trek to this temple. Here is a brief guide of Kedarnath Yatra that would make your trip memorable for the lifetime.
Best time to visit Kedarnath Temple
The perfect time to visit the Kedarnath temple is May-June & Sep-Oct. Summer and post-monsoon is the best time to visit Kedarnath.
Places to see in Kedarnath
Gandhi Sarovar: Gandhi Sarovar is a small lake holding crystal clear water at the distance of 03km from Kedarnath near to Chorabari Bamak glacier. It is also known as Chorabari Tal as it is situated at the mouth Chorabari Bamak glacier.
Shankaracharya Samadhi: It is located in the Kedarnath behind the temple and believed that here Adiguru Sankaracharya guru took samadhi.
Bhairavnath Temple: Situated at the south of the Kedarnath temple on the eastern hill of the lofty Himalayas of Uttarakhand. This temple is dedicated to the Bhairav baba.
Gaurikund: It could be considered as the base for a trek to the Kedarnath. Also, it has hot springs and temples dedicated to Gauri.
Vasuki Tal: Vasuli Tal is a high glacial charming lake with iconic environs located five kilometers from Kedarnath temple, which lies at the height of 4,135 meters.
Sonprayag: Sonprayag is a holy village in the Chamoli district of Uttarakhand state in India, situated on the bank of river Mandakini. This place is to be believed that offer salvation to them who take a bath in it. 
How to reach Kedarnath temple?
Well, there are many ways to reach the Kedarnath temple. It depends on people how they want to reach there. People can reach there by Road, Air or Train.
By Road: If you are planning to reach Kedarnath by road, Then Gaurikund is the best option to choose and the nearest motorable area from Kedarnath. Many options are available such as taxi, state bus services that runs around it. These options connects the vicinity with Chamoli, Srinagar, Tehri, Pauri, Rishikesh, Dehradun, Haryana, Chandigarh, Delhi, Uttarkashi, Haridwar and many other destinations.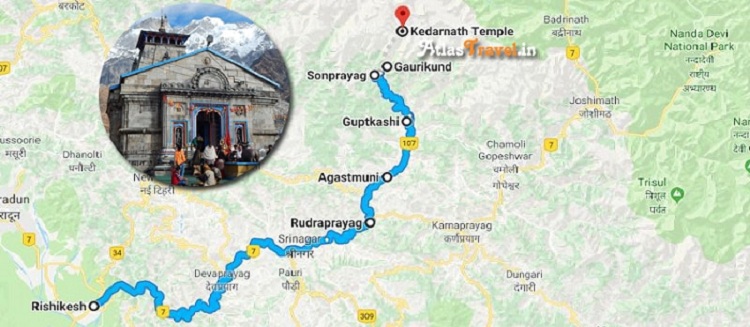 You can also choose other options to reach Kedarnath by picking a direct bus service from Kashmiri Gate bus stand in Delhi that will drop you to Gaurikund.
Delhi – Haridwar (206 km) – Rishikesh (24 km) – Devprayag (74 km) – Srinagar (34 km) – Rudraprayag (33 km) – Gaurikund – then Kedarnath
By Train: If you choose the train to reach Kedarnath, Then Rishikesh railway station is the nearest railway station from Kedarnath. Rishikesh railway is the most easiest way as this is well connected to the major cities and towns of the country. You can hire a private taxi or choose the bus service to reach the Gaurikund and further trek to Kedarnath.
By Air: Jolly Grant Airport is the nearest airport from the Kedarnath as it is situated at a distance of 238km from the Kedarnath and also connected to the major cities of India. You can reach out to Gaurikund through bus once you reached the airport.
At last, Gaurikund is the last stop where any transport vehicle can visit. After that, you have to continue to the trek by walking or you can also hire a pony or any other options if you want to avoid trekking. Also, you can choose a helicopter flight from Guptakashi, Phata/ Gaurikund, etc.
Staying in Kedarnath
There are no accommodation centers are available in Kedarnath itself. Hotels, Lodges, and Guesthouses are available in the major towns of the Guptakashi, Gaurikund Sitapur, Rampur, Ukjimath, and another of Kedarnath itself.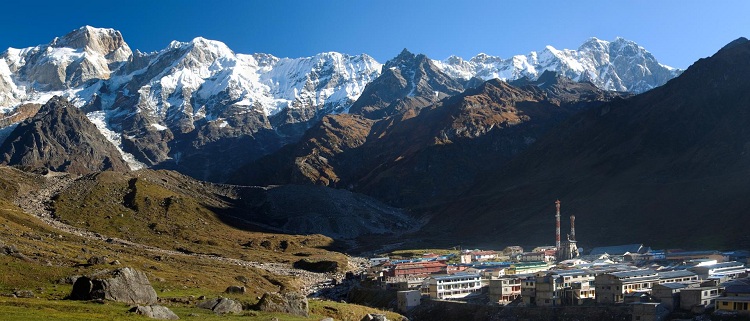 The hotels are not luxurious stays but gives you good food. Budget hotels are available for people who looks for one night stays. Also, visitors can enjoy the scenic view of nature at the banks of the river Mandakini or at Guptakashi.
Foods in Kedarnath
Apart from a few roadside food and tea stalls, there are a couple of hotels and restaurants serve North Indian vegetarian food, which run from 4am to till midnight.
Well, most restaurants offer Chinese food in Gaurikund. But, you can find North Indian food, Rajasthani food, and Gujarati food also in Gaurikund. Due to being a revered religious place, you can't find alcohol and non-vegetarian food as it is strictly prohibited at Kedarnath.
Conclusion:
You have to be mentally and physically prepared for this journey. But, at the end-all of your effort and experience would be worthful and extremely rejuvenating. Hope, this guide let you analyze the entire trekking to Kedarnath overview and make your trip even more memorable and enjoyable.